About Mark Illis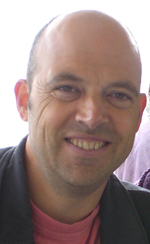 Mark was born in London in 1963. He bought comics, watched Star Trek, went to see The Clash and loved reading and writing. He had some short stories published at university, and went on to do an MA in Creative Writing at UEA, where Malcolm Bradbury and Angela Carter were his tutors. That was a good year.
In his twenties Mark had three novels published by Bloomsbury, A CHINESE SUMMER, THE ALCHEMIST and THE FEATHER REPORT. He was also teaching English GCSE part-time, doing research for a charity called Shape, and then working as a Literature Development Worker, 'raising the profile of literature in Berkshire.' Exciting times. In 1992 Mark moved to West Yorkshire to be a Centre Director for the Arvon Foundation, after which he started writing for TV and radio. He has written three radio plays and has written for EastEnders, The Bill and Peak Practice. He wrote for Emmerdale for over a decade. He also wrote the award-winning screenplay for Before Dawn, a relationship drama with zombies. He had a cameo in the finished film, as a zombie. He's currently writing for the CBBC show, Jamie Johnson and is developing an original drama with Lime Pictures.
Mark has taught writing in schools, libraries, universities, Reading Prison and Broadmoor Secure Hospital, and has run workshops in Hong Kong and Norway. He has taught many Arvon courses, has given readings at festivals from Brighton to Edinburgh, Cheltenham to King's Lynn, and has reviewed for The Times Literary Supplement, The Spectator and Radio 4's Kaleidoscope. He has recently been working for the charity First Story and for the Royal Literary Fund. He's married with two children and a cat and is still living in West Yorkshire.
His fourth book, TENDER, was published in 2009, and his fifth, THE LAST WORD, (shortlisted for The Portico Prize) in 2011, both by Salt.
In 2017, his first Young Adult novel, THE IMPOSSIBLE, winner of a Northern Writers' Award in 2015, was published by Quercus. The sequel THE IMPOSSIBLE: ON THE RUN came out in July 2018. Both books involve teenagers, strange mutations and four friends trying to cope with a world gone mad.